Melbourne Data Centre
RedyHost houses its equipment within the SecuritOn data centre located in Melbourne CBD, Australia. SecuritON is the leading global provider of carrier-neutral data centres and Internet exchange services for enterprises, content providers, systems integrators and network services providers.
To see proof of our dedication to choosing only the best for our customers, you only need look as far as our neighbours in the SecuritON Data Centre including such names as Yahoo, eBay, Fairfax, Unwired, and Google.
SecuritON Data Centre. Melbourne, Australia
Key Features of the Datacenter
HVAC System
HVAC systems comply with N+1 specifications and include a centralised chilled water plant with multiple redundant chillers piped in parallel, ensuring continuous reliability and satisfying all cooling requirements.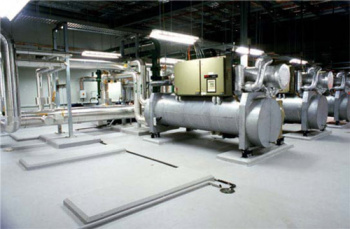 Security
SecuritON has implemented the following security measures that require multiple levels of authentication and authorisation:
Onsite security guard patrols the site 24/7
The facility is monitored by CCTV Surveillance system
Key access areas are controlled by biometric hand scanners and/or secure access cards
Visitors are required to check in first with the security guard. Valid Identification is required
All activities on premises are logged
UPS SYSTEMS
The Uninterruptible Power Supply (UPS) is built on a multi-level N+1 configuration to achieve 99.999% uptime. Power is supplied by a power distribution unit (PDU) - each PDU is connected to two UPS plants.
Fire Suppression and Detection
SecuritON's IBX Centres are designed with multiple levels of fire detection and fire suppression systems. The Melbourne IBX has the following fire suppression systems:
 VESDA - very early smoke detection/warning system monitored by the SecuritON BMS system
Zoned (double-interlock) pre-action water sprinkler system
Smoke detectors above and below raised floors
Hand-held fire extinguishers